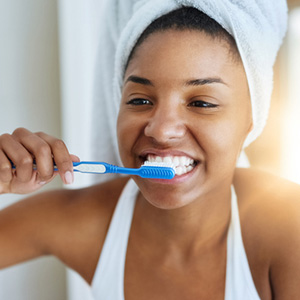 It's a sad fact: Many people postpone needed dental treatment because of their finances. There's no doubt that treatments for many tooth and gum problems can be expensive. But delaying treatment can make matters worse—and when they do see their dentist to address the issue, the costs can skyrocket.
The thriftiest way to manage your dental health is to prevent disease before it occurs or seek treatment as early as possible. You may incur some initial expense, but you'll pay less in the long-run and have better health to boot.
Here's a common sense approach for easing the impact of dental care on your budget.
Form a customized care plan. The key to keeping your dental expenses in check is to be proactive, not reactive with your care. Don't wait until you begin noticing problems—instead, invest in regular dental visits where your dentist can assess your ongoing individual risk for dental disease. Using that assessment, your dentist and you can then create a care plan that lowers your disease risk and promotes optimal health.
Adopt sound hygiene practices. A simple toothbrush and a roll of floss could save you thousands in dental care costs over a lifetime. Using them daily removes dental plaque, the top cause for both tooth decay and gum disease. Couple that with regular dental cleanings and your risk for costly dental disease will go down significantly.
Try less expensive, short-term restorations. Even with the best prevention strategy, there's always a chance you'll encounter a problem with your teeth or gums. Unfortunately, the best permanent fix may be more than your budget can handle. In that case, consider a less expensive restoration (like resin or glass-based fillings) to protect and restore your problem teeth until you can afford a better permanent solution.
Talk with your dentist about long-term financing. Spreading out the bill for dental treatment over several payments can help you manage unforeseen costs. Talk with your dentist about treatment financing options they offer or sponsor. If possible, have a contingency plan for payment in place before you need it—just in case.
Any kind of dental care, even preventive maintenance, can cost you. But if you manage your care wisely, you can keep that cost to a minimum.
If you would like more information on managing your dental health, please contact us or schedule an appointment for a consultation.