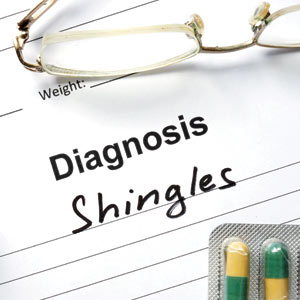 A shingles outbreak can be painful and embarrassing. It could also interfere with many areas of your life—including your dental care.
Known medically as herpes zoster, shingles is a viral form of chicken pox. The virus can lie dormant for many years or decades in people that had chicken pox as a child, breaking out later in life (sometimes repeatedly). It's estimated about a quarter of people who had chicken pox as a child, about 90% of adults, will experience a shingles outbreak.
In the beginning, a person with shingles may notice an itching or burning skin irritation, as well as numbness or sensitivity to touch. In time, a red, crusty rash can develop, usually forming a belted or striped pattern on the torso, head or facial areas. The patterning is caused by the virus's disruption of nerves that serve those parts of the body.
Shingles could impact your dental care because it can be contagious early in an outbreak. As such, it can be transmitted to other people via contact with the rash or through airborne respiratory particles. Dental staff members or other patients who are pregnant, undergoing cancer treatment or with other conditions that compromise their immune systems can develop serious health problems if they contract the virus.
If you have an upcoming appointment, it's best then to let your dentist know you've been diagnosed with shingles. If your treatment involves physical contact that could spread the virus, they may wish to reschedule you until the outbreak clears up.
There are ways to hasten the healing process with antiviral treatments like acyclovir or famciclovir. For best results, these treatments should begin within 3 days of a shingles outbreak. There is also a shingles vaccine that can help you avoid an outbreak altogether. The U.S. Centers for Disease Control (CDC) recommend it for adults over 60.
Having shingles can be painful and stressful, and pose a major interruption of your daily life and routine. With proper management, though, it can be contained so you can get on with your life—and your dental care.
If you would like more information on managing shingles and dental care, please contact us or schedule an appointment for a consultation. You can also learn more about this topic by reading the Dear Doctor magazine article "Shingles, Herpes Zoster."