My Blog
Posts for tag: dentures
By Stephen A. Solomon, DMD & Associates
May 22, 2020
Statistics from the American Association of Oral and Maxillofacial Surgeons reveal that as much as 70% of American adults from 35 to 44 years old have lost at least one tooth. The common reasons include tooth decay, dental fractures, accidents, and gum disease. If you belong to this segment of society, you may be wondering what tooth restoration options are available to you.
Here at Stephen A. Solomon, DMD & Associates in Putnam, CT, our dentists commonly utilize dental implants and dentures for addressing tooth loss. But what's the difference between these options? Read on to find out.
Understanding Dentures
Modern dental dentures feature a look and feel that make them almost indistinguishable from your natural teeth. Dental dentures are not only intended to beautify your teeth, but to also help in the restoration of your oral functions. Having dentures likewise provides support to your lips and cheeks to prevent your face from sagging. Other benefits include:
A natural-looking smile.
Quick treatment time.
Surgery isn't necessary.
Understanding Dental Implants
Implants are a long-term permanent replacement for missing teeth. Made from titanium, implants are surgically placed into your jawbone to serve as the root for prosthetic replacement. As time passes, they will fully integrate into your jaw and provide amazing facial support. Dental implants have their own sets of benefits for those who qualify for treatment, including:
A look, feel, and functionality similar to your natural teeth.
Jawbone stimulation to prevent shrinking.
Easy maintenance.
Dietary freedom.
The ability to last for decades.
Your Putnam dentist might recommend the use of implants if you need to replace a single tooth or several teeth that might not necessarily be adjacent. In case you need a whole arch replacement for your teeth, there's also a full arch restoration option available.
Contact Us
Dial (860) 928-6533 to set an appointment with one of the dentists here at Stephen A. Solomon, DMD & Associates in Putnam, CT.
By Stephen A. Solomon, DMD & Associates
October 24, 2019
The American College of Prosthodontists says that 120 people in the US have lost at least one tooth--some, many more. Are you one of these individuals? At Stephen Solomon, DMD & Associates in Putnam, CT, and serving Putnam, Killingly, Pomfret, Woodstock, Thomspon, and Windham County, CT, your dentists, Dr. Stephen Solomon and Dr. Jonathan Solomon, help people recover their smiles. Learn the benefits of dentures and how they could help you look your best and enjoy great oral health.
What are dentures?
Dentures are artificial teeth made from lifelike acrylic and selected biocompatible metals when needed. Dentures fill smile gaps created by dental extraction, congenital absence of teeth and periodontal disease, the leading cause of tooth loss in the United States (according to the Centers for Disease Control).
Created according to your oral contours and any remaining teeth, these prosthetics stay in place with suction created by the mouth itself, via metal clasps or even state-of-the art dental implants. With good care, dentures last up to ten years.
The benefits of dentures
At his Thompson, CT, office, your dentist will fully evaluate your smile to see what kind of denture is best for you. X-rays and oral impressions, along with digital photos and a discussion of your preferences and needs, help him formulate a treatment plan. What results is a custom-crafted and -fitted appliance which offers these benefits:
Restored ability to bite and chew a regular diet without limitations, pain or slippage
Youthful facial contours
Filled smile gaps
Normalized speech
Better self-confidence in social and professional settings (no need to hide your mouth when laughing and talking)
Types of dentures
Together, you and Dr. Solomon will determine the type of denture best for you. Types of dentures include:
Full conventional, to replace a complete upper or lower arch
Immediate, placed right after dental extractions
Partial, replacing one or more missing teeth (held in place by metal clasps)
Implant-supported, a partial or full denture anchored by an even number of titanium dental implants
Whatever your selection, expect your dental team to help you every step of the way as you adjust to your new smile.
Learn more about dentures
The team at Stephen Solomon, DMD & Associates wants you to have your best possible smile. If you're contemplating dentures, please call our office in Putnam, CT, for a consultation. We proudly serve Putnam, Killingly, Pomfret, Woodstock, Thompson, and Windham County, CT. Phone (860) 928-6533.
By Stephen A. Solomon, DMD & Associates
September 12, 2015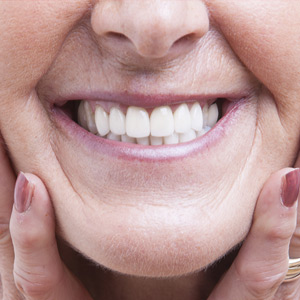 You probably can't remember a time without your teeth — and can't imagine life without them. But now it's a reality: one by one your teeth have become casualties in a long-standing war with dental disease until now they're all lost.
Total tooth loss (edentulism) can be difficult in more ways than the loss of function — it can be psychologically traumatic as you must now transition from natural teeth to dentures or other restorations. To add to the stress, you probably won't be able to obtain your permanent restoration immediately because the extraction sites must heal.
To help you with this transition and provide a means for you to have teeth during the healing period, we may fit you with an appliance known as an immediate denture. With these temporary teeth replacements, you can maintain your smile appearance, chew food and speak unimpaired.
Initially, immediate dentures should fit well, but over time your gums will tend to shrink as they heal. This can loosen the dentures' fit and make them uncomfortable to wear. If the healing process is still ongoing and you still need to wear the immediate dentures, they can be relined with more denture material to fine-tune the fit.
At some point, though, we must consider creating a new, permanent set of dentures. When your mouth is fully healed, we can make a more accurate impression that we can then use to construct your new set. There are also other options, such as using dental implants to support a denture or a fixed bridge. This option will only be possible, however, if you have sufficient bone available to fully support it, which we might also be able to augment with grafting.
Immediate dentures serve a worthwhile purpose, but only for a temporary period. We'll be happy to discuss all your options with you to help you find the right permanent solution that fits both your mouth's condition and your financial ability.
If you would like more information on transitioning to teeth replacement, please contact us or schedule an appointment for a consultation. You can also learn more about this topic by reading the Dear Doctor magazine article "Immediate Dentures."